Sleeping bus to sapa
Prices starting from:
Only from 15$

Big Promotionfor Sleeper Tourist Buses Round trip Hanoi to Sapa & Sapa to Hanoi Just 6 hours driving /01 way
Sleeping bus to sapa
Only from 15$
Book Now
Full Itinerary
Sleeping bus to Sapa Information
Sleeper Bus Sapa Vietnam Ticket Price & Departure Shedule
There are some kind of transportations that you could take to go from Hanoi to Sapa , viversal and from Sapa back to Hanoi . The most popular transprotation is going by train and by bus as well. Besides you can hire a motorbike to experience the long joney and so you shall have opportunity to explore the whole view and the Vietnamese people's real life from Hanoi to Sapa. Here are two bus companies that you can trust and book the ticket.
Sleeper Bus Sapa Offer many sleeper buses departed times for Hanoi – Lao Cai – Sapa andreturn direction with only 38 passengers/ Aero space Busses, small bottle of water, towel, TV and blanket included. The bus depart at different time in the day. It takes shorter time than going by train with reasonable price compared with sleeper train tickets.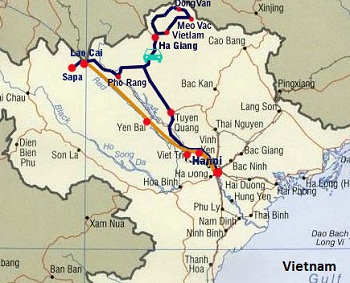 With the advent of good technology, there are now special passenger buses that offer a very comfortable and safe journey. These buses are specially designed for travelers and hence, are very comfortable to travel in and generally equipped with all the latest amenities such as music players and LCD screens for the fun and entertainment of the travelers. Traveling from Hanoi to Sapa and reversal is a fun filled experience via bus. As it is a cheap, highly accessible and a comfortable mode of transportation. Also travelling via buses gives one the advantage of enjoying the beautiful scenic beauty on the way.
Below are some popular busses that can be found for your Sapa trip. AC buses: provide a comfortable journey allowing you to enjoy a pleasant bus ride to your preferred destination, unaffected by weather conditions outside the AC bus. For a comfortable travel experience, the buses are fitted with upholstered seats that can be reclined. Windows have curtains to block out the sun while some AC buses also play music or movies for entertainment of passengers.
Night Sleeper Buses: An innovative concept introduced a year ago, this type of sleeper buses are today the most preferred bus type for those who want to save time and quite convenient to take the other buses for next other destinations. Sleeper buses are specially designed for a comfortable bus travel experience and like trains have berths instead of seats. Each passenger is assigned a berth to sleep on during the journey. Most sleeper buses feature bunk beds with two berths each and feature window curtains as well.
Night Seater cum Sleeper Buses: The latest combination has resulted in the introduction of seater cum sleeper buses that offer you the choice of seats and berths within the same bus. A typical seater cum sleeper bus has two rows of seats that regular buses feature and in addition it also features a row of berths above the seats on each side of the aisle. Since the fare for a seat is less than that of a berth in a seater cum sleeper bus, depending on your budget and duration of travel, you can now opt for either a seat or a sleeper berth on seater cum sleeper buses.Come back Hanoi from Sapa by Sleerper Bus , you could do Halong Cruise at the same day on arrivel
Sleeper Bus Sapa from Hanoi to Sapa Schedule (daily departure)
| Departure | Distance & Duration | Arrival Time | Price | Booking |
| --- | --- | --- | --- | --- |
| 7h00 AM | 350 Km – 06 hours | 13h00 PM | 15 $ /01 Sleeper Seat | |
| 13h00 PM | 350 Km – 06 hours | 18h30 PM | 15 $ / 01 Sleeper Seat | |
| 21h30 PM | 350 Km – 06 hours | 4h00 AM | 15$ /01 Sleeper Seat | |
Sleeper Bus from Sapa to Hanoi Schedule (daily departure)
Sleeping bus to sapa
Only from 15$
Book Now